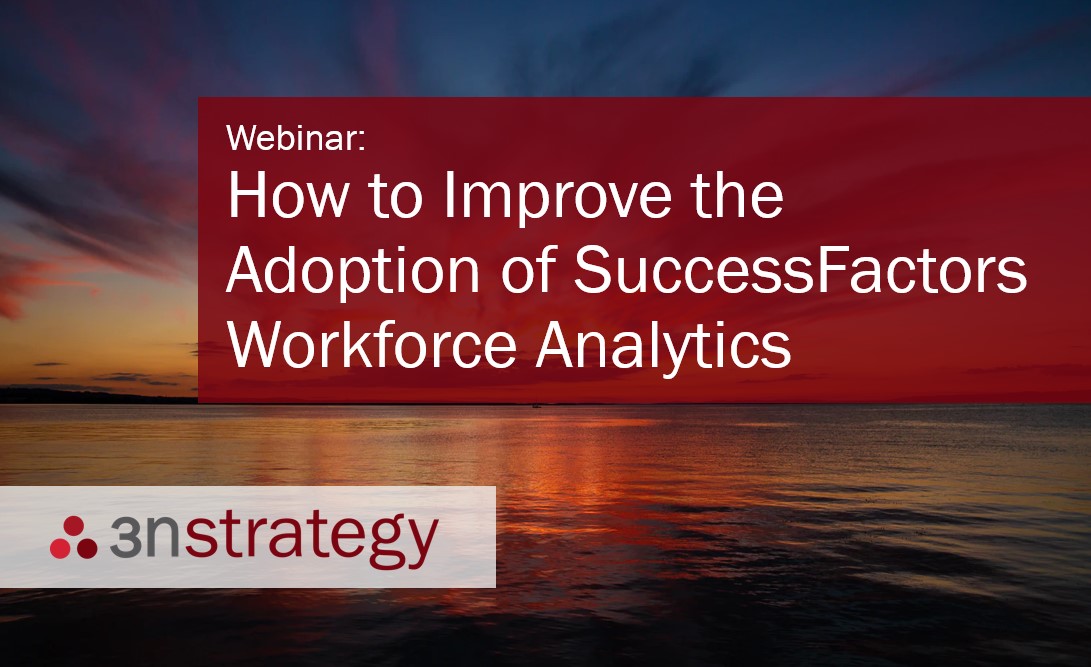 How to improve the adoption of successfactors workforce analytics
ON DEMAND
Workforce Analytics requires a different approach from other SuccessFactors modules - especially when it comes to utilisation and adoption. Why is this? This is because with the other SuccessFactors modules, your users have to use them. For example, if you want to manage an employees performance you are forced to use a performance form. Or if you want to assign a training course you are forced to use the learning module.
Analytics is different because analytics is not about achieving a particular HR function. Analytics is about improving the way decisions are made. And unfortunately there is no way to force someone to make a better choice - you can only enable them by encouraging the right habits and behaviours, training the right skills, designing the best WFA experience and configuring the right tool.
In this webinar 3n Strategy will talk customers through:
What is SuccessFactors Workforce Analytics?
How should WFA fit into your SuccessFactors Data-Driven HR Strategy?
How to measure and plan utilisation?
How to enable your users with the right behaviours and skills for WFA success?
How 3n Strategy's Accelerator programmes can driver the adoption of WFA and data-driven HR in your organisation?
Who should attend this webinar?
This webinar should be attended by any SuccessFactors customer interested in starting their Workforce Analytics journey, or those looking to build on their existing knowledge. If you are a SuccessFactors sponsor, product owner, reporting and analytics, or someone tasked with implementing WFA, you should consider attending.
Who is 3n Strategy?
Our goal at 3n Strategy is to enable HR functions to make the best possible decisions about their workforce and the way people experience their careers. We are SAP SuccessFactors partners who specialise in the implementation and adoption of Workforce Analytics, Reporting and Strategic Workforce Planning.
For more information about our services, please visit
www.3nstrategy.com
. For more information on our SuccessFactors Accelerator Programme, please visit
https://3ns.co/successfactors
.
For anything else, email contact@3nstrategy.com.
A free copy of our extensive eBook guide with tips on how you can increase your productivity by automating your daily tasks.
An exclusive link to our online community so that you can discuss what you learn with a group of like-minded individuals.
An extended free trial of our software so that you can immediately put some of these tips into action.
Access to our online support chat so that you can ask any questions that you may have after reading through the eBook.
Links to all of our open resources so that you can continue to learn after reading through this eBook.
A free calendar browser extension so that you can track your progress as you begin to automate your tasks.