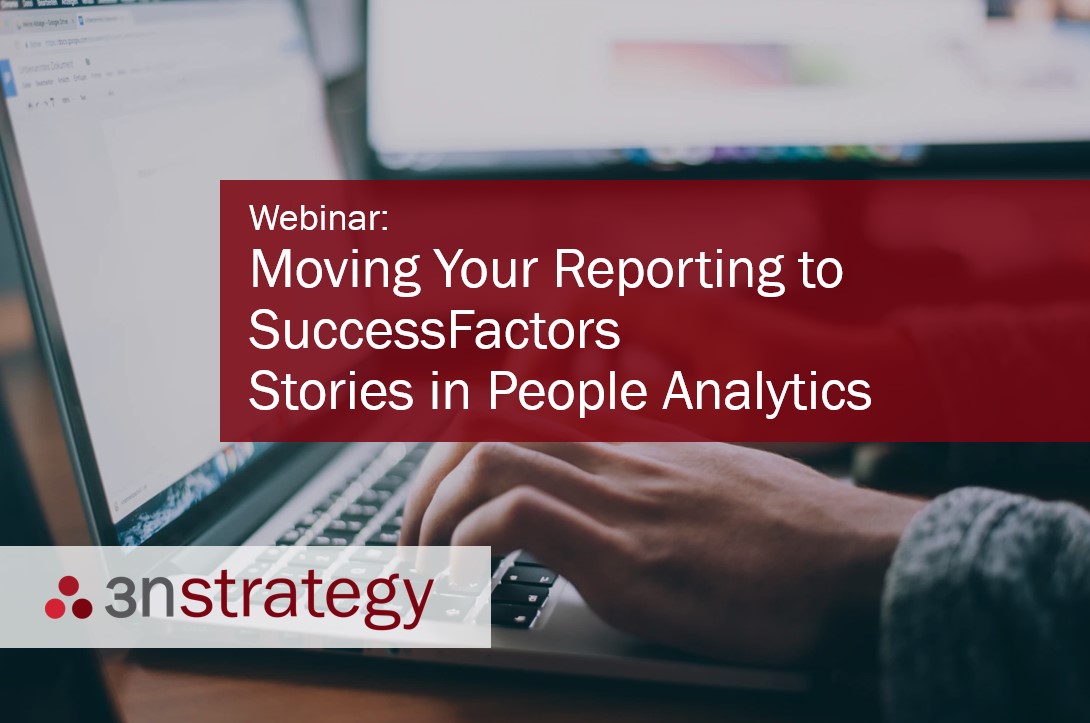 MOVING YOUR REPORTING TO successfactors STORIES IN PEOPLE ANALYTICS
24 February 2021 @ 10am PST / 12pm CST / 1pm EST. To register for the EMEA webinar, please click here.
Last year SuccessFactors released Stories in People Analytics (formerly referred to as People Analytics Embedded Edition). Stories is the future of SuccessFactors reporting and going forward will replace all other operational reporting tools.
But what is Stories? What does it look like? What data can it work with? And more importantly, how can your organization get started with Stories, and migrate your old reports onto this new platform.
In this webinar 3n Strategy will cover:
What is Stories in People Analytics and how will it fit into your people analytics strategy?
Short demo: What does Stories look like?
What are the key Stories functionalities you need to understand?
How might you consider moving your reports from legacy report tools to Stories?
How can 3n Strategy help you design your reporting strategy and migrate your reports?
Who should attend this webinar?
This webinar should be attended by any SuccessFactors customer interested in starting their Workforce Analytics journey, or those looking to build on their existing knowledge. If you are a SuccessFactors sponsor, product owner, reporting and analytics, or someone tasked with implementing WFA, you should consider attending.

Who is 3n Strategy?
3n Strategy works with organizations to accelerate, scale and sustain their adoption of data-driven HR. We enable them to Make Better HR Decisions.
We are SAP SuccessFactors partners who specialise in the implementation and adoption of the SuccessFactors People Analytics tools - Workforce Analytics and Stories in People Analytics.
For more information about our services, please visit
www.3nstrategy.com
. For more information on our SuccessFactors services, please visit
https://3ns.co/successfactors
.