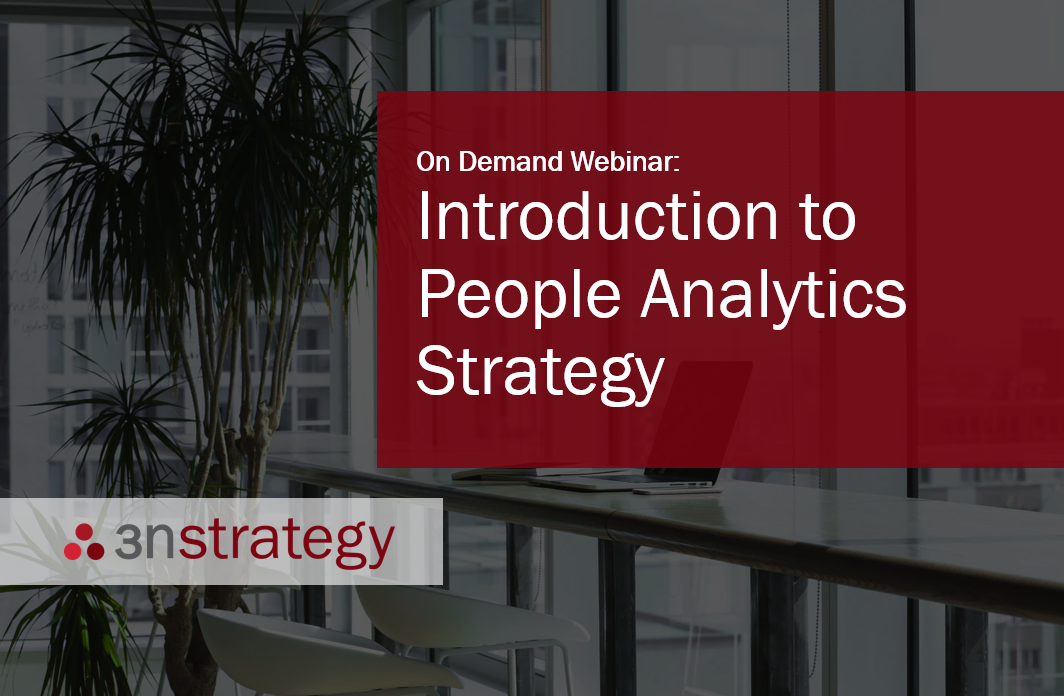 Introduction to people analytics strategy
ON-DEMAND WEBINAR. WATCH NOW.
By transforming their HR data into HR evidence, People Analytics provides HR and business leaders with the information they need to make better decisions about the workforce.

In this webinar, Nigel Dias, Managing Director of 3n Strategy, will take attendees through not only how to effectively design a people analytics strategy, but a strategy which accelerate your organisation's adoption of evidence-based HR decision-making.

Webinar attendees will learn:
- What is People Analytics?
- What does a People Analytics Strategy look like?
- How to align your people analytics strategy with your wider HR strategy?
-
____________________________

3n Strategy believes that if we provide the right decision maker, with the right evidence, at the right time, in the right way, we will optimise business outcomes and improve the way people experience their jobs. We provide a full complement of enablement ('Accelerator') services enabling organisations to adopt, scale and sustain a culture of evidence-based HR decision-making.

For more information about our services, please visit www.3nstrategy.com.

For anything else, email contact@3nstrategy.com.
A free copy of our extensive eBook guide with tips on how you can increase your productivity by automating your daily tasks.
An exclusive link to our online community so that you can discuss what you learn with a group of like-minded individuals.
An extended free trial of our software so that you can immediately put some of these tips into action.
Access to our online support chat so that you can ask any questions that you may have after reading through the eBook.
Links to all of our open resources so that you can continue to learn after reading through this eBook.
A free calendar browser extension so that you can track your progress as you begin to automate your tasks.