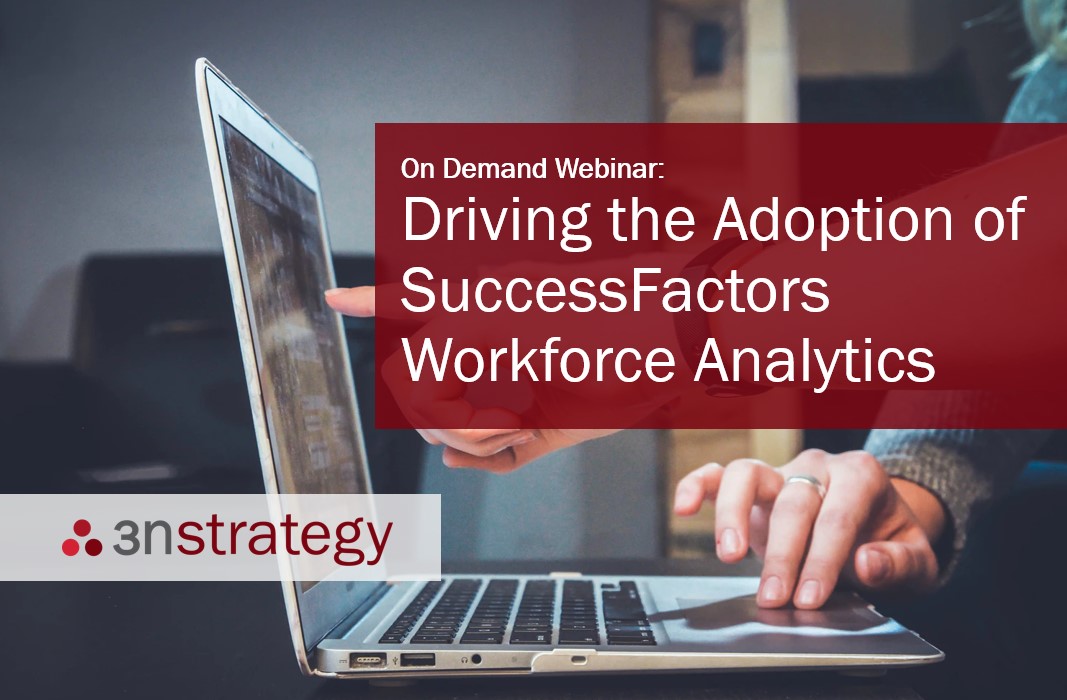 Driving the Adoption of SuccessFactors Workforce Analytics
On-Demand: Watch Now
By deploying SuccessFactors Workforce Analytics (WFA), organisations are giving every HR and business leader in their business the potential make better decisions about the workforce by providing them with analytical evidence.
This potential can only be recognised if these decision-makers adopt evidence-based decision making. To achieve success with WFA, organisations need to design roll out strategies and change management that drive the adoption of WFA as an HR practice and as an HR technology.
In this on-demand webinar, Nigel Dias, Managing Director of 3n Strategy, will take participant through:
What value will Analytics create for your business or HR function?
What does SuccessFactors Workforce Analytics do?
What is Adoption and how do we improve it?
5 Tips to Driving The Adoption of Dashboards
If you have any other questions about SuccessFactors Workforce Analytics, there are lots of answer to be found on our Top SuccessFactors WFA FAQ blog.
About 3n Strategy
3n Strategy is a SuccessFactors partner specialising in Workforce Analytics and Strategic Workforce Planning.

For more information about our services, please visit www.3nstrategy.com. For more information on our SuccessFactors Workforce Analytics and Strategic Workforce Planning Services, please visit www.3nstrategy.com/successfactors.



For anything else, email contact@3nstrategy.com.