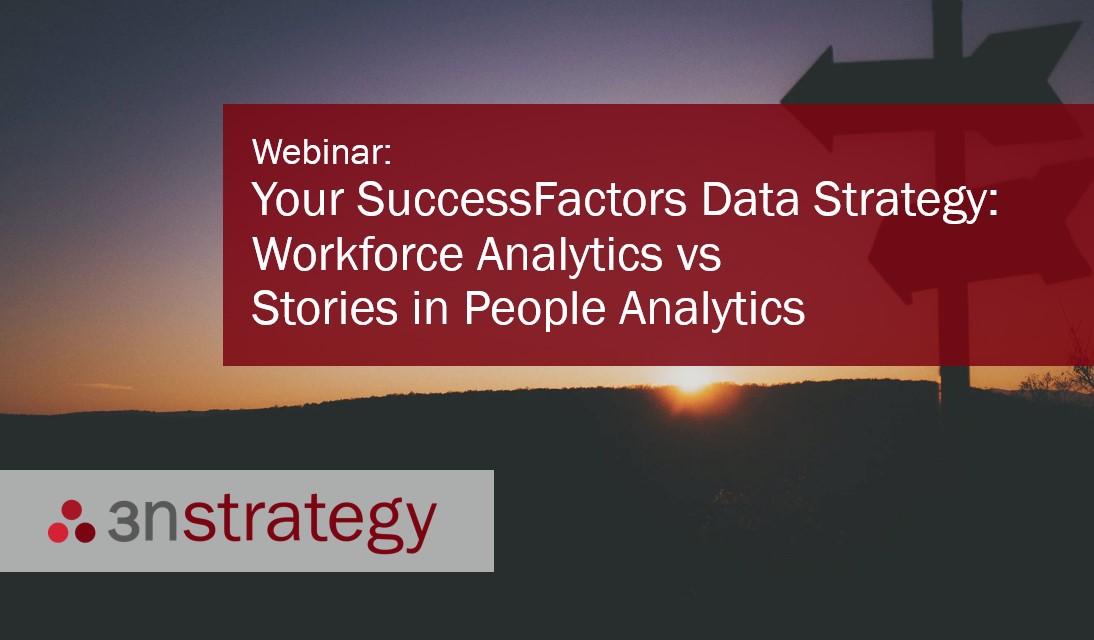 Your SuccessFactors Data Strategy: WFA vs Stories in People Analytics
ON DEMAND WEBINAR. WATCH NOW.
Your SuccessFactors suite contains millions of data points that tell the story of your workforce. When viewed through the correct tools these data points transform into evidence that your people leaders can use to make better strategic and operational decisions.
Which of the SuccessFactors reporting and analytics tools should you use and when? When is the correct opportunity to use Workforce Analytics? When should you use Stories in People Analytics? What are they are what is the difference?
In this webinar, featuring 3n Strategy's Managing Director Nigel Dias and SAP's Senior Product Director Søren Højby, we will cover the following topics:
What is Workforce Analytics? What does it look like?
What is Stories in People Analytics? What does it look like?
What is the difference and when should you use either tool?
How can 3n Strategy help you to implement both tools and ensure your decision-makers have access to the information they need?
Who should attend this event?
We recommend that all SuccessFactors customers attend this event. If you are responsible for the success of your HR transformation or the your SuccessFactors subscription then these tools are vital to the impact of your HR work and delivery.

Who is 3n Strategy?
Our goal at 3n Strategy is to enable HR functions to make the best possible decisions about their workforce and the way people experience their careers. We are SAP SuccessFactors partners who specialise in the implementation and adoption of Workforce Analytics, Reporting and Strategic Workforce Planning.

For more information about our services, please visit www.3nstrategy.com. For more information on our SuccessFactors Accelerator Programme, please visit https://3ns.co/successfactors.

For anything else, email contact@3nstrategy.com.