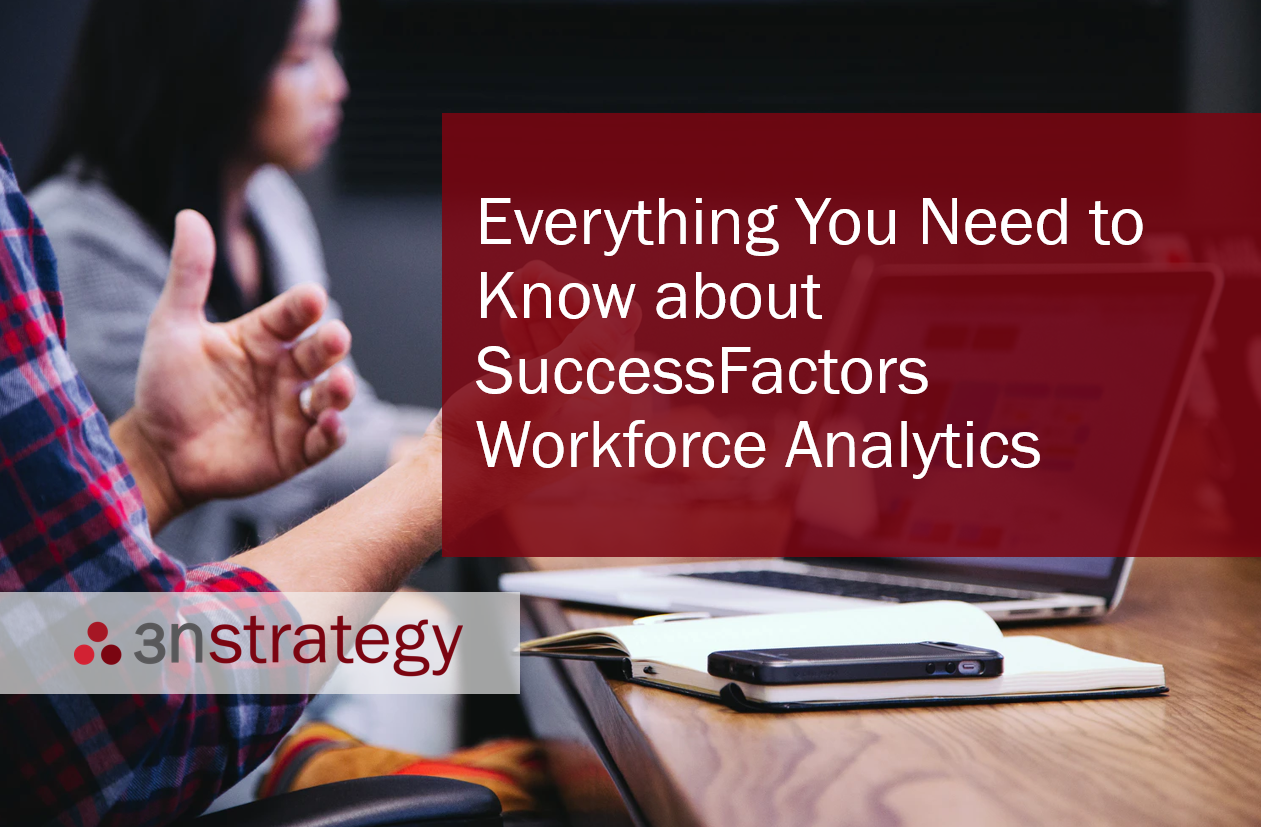 Everything Your Need to Know about SuccessFactors Workforce Analytics
25 November 2020 @ 4pm CET / 3pm GMT / 10am EST / 7am EST

The SuccessFactors suite captures vast quantities of data about your employees. All of this data can be transformed using the SuccessFactors Workforce Analytics tool into evidence that your HR teams can be using to improve their decision making.


3n Strategy is a SuccessFactors partner, specialising in people/workforce analytics and strategic workforce planning. We have been working with organisations to implement and drive the adoption of SuccessFactors analytics tools for over ten year.


In this webinar, we continue to tackle WFA myths and questions as Nigel Dias will talk participants through everything they need to know about the SuccessFactors analytics tool sets, including picking which analytics and reporting they should consider.
Topics covered during this webinar:

What value could analytics create for your business? How will you translate this into analytics requirements?
What does WFA look like? What does a WFA dashboard look like?
How does WFA work?
What does a WFA implementation process look like?
Who should attend this webinar?
This webinar should be attended by any SuccessFactors customer interested in starting their Workforce Analytics journey, or those looking to build on their existing knowledge. If you are a SuccessFactors sponsor, product owner, reporting and analytics, or someone tasked with implementing WFA, you should consider attending.
Who is 3n Strategy?
Our goal at 3n Strategy is to enable HR functions to make the best possible decisions about their workforce and the way people experience their careers. We are SAP SuccessFactors partners who specialise in the implementation and adoption of Workforce Analytics, Reporting and Strategic Workforce Planning.
For more information about our services, please visit
www.3nstrategy.com
. For more information on our SuccessFactors Accelerator Programme, please visit
https://3ns.co/successfactors
.
For anything else, email contact@3nstrategy.com.
A free copy of our extensive eBook guide with tips on how you can increase your productivity by automating your daily tasks.
An exclusive link to our online community so that you can discuss what you learn with a group of like-minded individuals.
An extended free trial of our software so that you can immediately put some of these tips into action.
Access to our online support chat so that you can ask any questions that you may have after reading through the eBook.
Links to all of our open resources so that you can continue to learn after reading through this eBook.
A free calendar browser extension so that you can track your progress as you begin to automate your tasks.