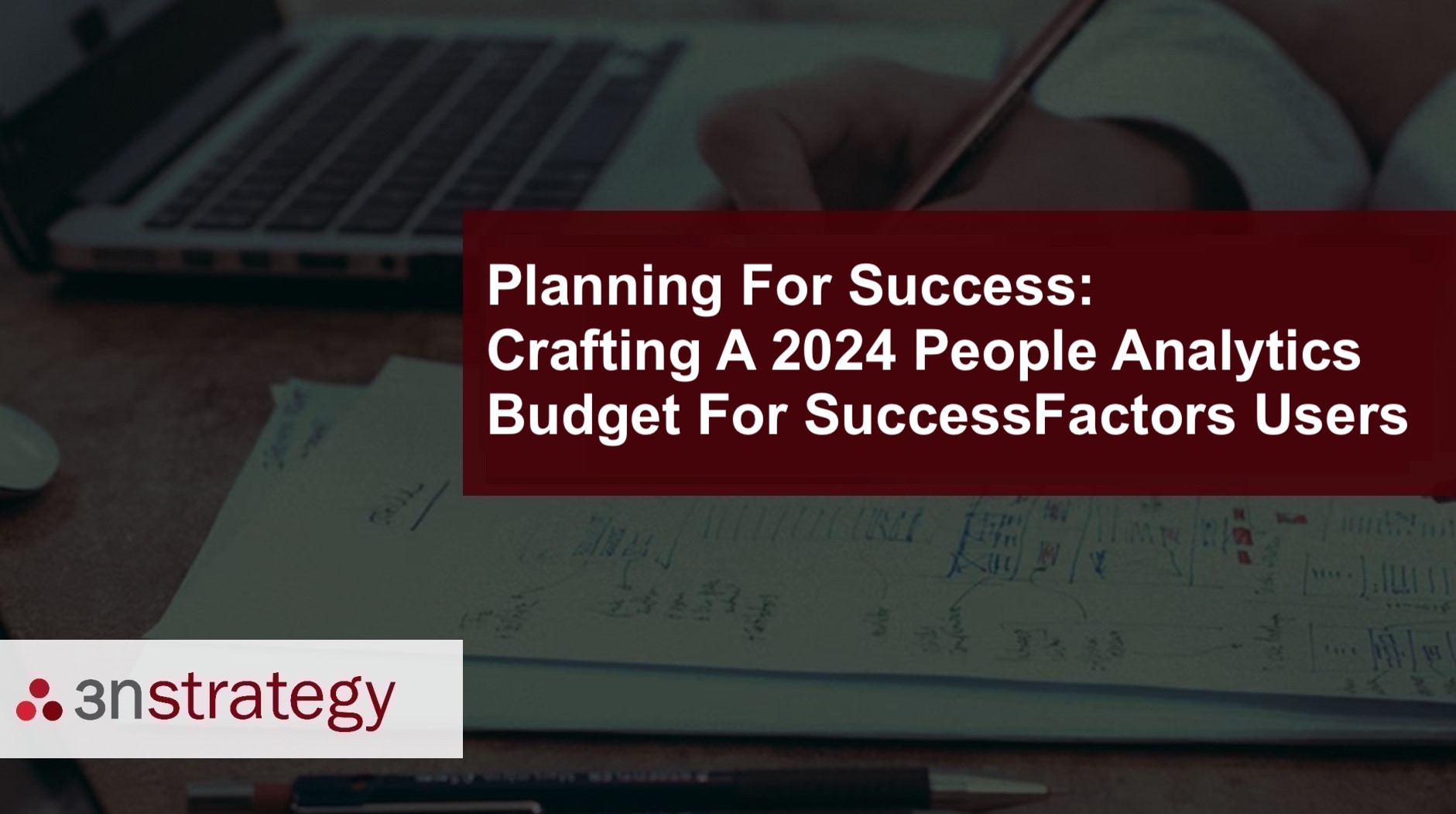 Webinar: Crafting a 2024 People Analytics budget for SuccessFactors users
4 October 2023 @ 4pm CET / 3pm UK / 10am EST / 8am MST
Are you planning People Analytics investments for the upcoming year?

As the demand for data-driven HR decisions and culture grows, equipping your organisation with a robust budget tailored for SuccessFactors can be a game-changer. By prioritising such budgeting, organisations not only optimise their HR processes but also gain a competitive edge in talent management and workforce planning.

Join 3n Strategy for a deep dive into crafting a budget that positions you for success in 2024 - so your business is adequately prepared for the year to come - and for the following 2-3 years of your company's people analytics journey.

In this exclusive webinar, we will explore:

- Budgeting Foundations for People Analytics: Understand the core components that should be prioritised in your budget. We'll discuss how to align your financial planning with your business goals, ensuring your People Analytics tools and strategies deliver maximum ROI.

- SuccessFactors-Specific Insights: We'll delve into the unique features and considerations for users of SuccessFactors. From licensing nuances to integration costs, get the clarity you need to make informed budget decisions.

- Future-Proofing Your Strategy: With the fast-evolving landscape of HR technology and data analytics, it's essential to stay ahead of the curve. Learn how to earmark funds for emerging trends, ensuring your People Analytics approach remains cutting-edge in 2024 and beyond.
- People Analytics Culture & Team Development: Where you should be investing if you are prioritising unlocking data-driven culture and skills in your HR team(s)
Who is 3n Strategy?
We enable SuccessFactors customers to
Make Better People Decisions by using HR data to answer HR questions
. We are SAP SuccessFactors partners that specialise in People Analytics, Reporting and Strategic Workforce Planning.